Toronto certainly has some conflict when it comes to it's four-legged inhabitants,  but the fact is, Toronto is a city of dogs.  Estimates point to upwards of 200,000 dogs in the city, and that number seems to constantly be growing.  I have my own gripes about some of the doggy issues in the city, but a quick google search will pull up tons of results about just that.  Let's look on the other hand then: what are some of the best things about Toronto when it comes to dogs?
1) The TTC
While I'm the last one to say we have a perfect transit system (has anyone tried taking the 504 King Streetcar during rush hour?  I shudder just thinking about it.), we do have one huge perk: the TTC is pet friendly.  In downtown Toronto specifically, owning a car can be a nightmare.  Traffic is insane, people drive with – it feels like – only half their mind on the road, the rest on their cell phone, cab drivers are crazy, and sharing the road with cyclists is stressful.  On top of that, the cost of parking and insurance for a downtown car is ridiculous.  However, if you have pets (or kids – what are pets, if not our little fur babies?) sometimes transportation is necessary.  Not having to own a car thanks to things like Zipcar or a pet friendly TTC is a life saver.
Leashed pets or pets secured in an enclosed container are welcome to travel on the TTC during weekends and weekday off-peak periods – that is before 6:30 a.m.; 10:00 a.m. to 3:30 pm; after 7:00 p.m.. A Service Animal may accompany a passenger at any time. See the TTC By-law, Section 3, for full details.
2) The Pawsway/Williams Fresh Cafe
I cannot sing the praises of the Pawsway enough.  They offer really affordable drop in agility and rally-o classes, and occasionally scent detection workshops.  They host Pet First Aid classes, CGN exams, and have books and resources for potential dog owners.  Frequently, they have cats up for adoption.  On top of that, they have Williams Fresh Cafe, which is pet friendly.  I can't tell you how many times I've thought, "I could totally go for some brunch, but I hate to leave Athena home alone…", but then I discovered Williams.  Your pup can go with you and nap on your feet while you sip a latte, and when you're done, you can check out a rally-o class before going home!
3) The Flatiron & Firkin Dog Window
The Flatiron building is iconic in Toronto, and hidden away in the basement is a cozy Firkin pub.  Because it's in the basement, their windows are at ground level.  One window, on the north side of the building, behind the bar, is the dog window.  All the neighbourhood dogs know it, and patiently press their little noses up against it, because they know that as soon as the bartender notices them, they'll open the window, and hand out treats!  The dogs love it, but so do the patrons.  If you're needing some cheering up and don't have a dog of your own, there's nothing quite like sitting at the bar with a pint and watching all the excited puppies stop by.  No one really seems to remember how this all got started, but apparently the dog window has been a dog window for longer than the pub has been there, so well over a decade at this point.  It's quite simply charming.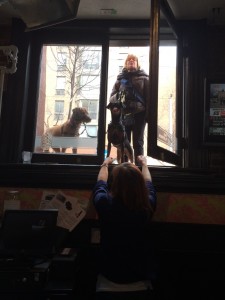 4) Dog Festivals
Woofstock and Pampered Pooches are a couple that immediately come to mind.  They make for a great destination for you and your pup on a sunny summer day!  Dog owners, in my experience, are such a welcoming community that you're sure to meet some friendly people, and you have at least one common interest!
Those are some of my favourites.  Added to the list, of course, are High Park and Trinity Bellwoods as doggy perks, as well as the sheer number of doggy daycare and walking services, and the huge amount of independent pet shops.
Have I missed any awesome Toronto dog perks?  Sound off in the comments below with your favourites!