On January 17th, I did my Pet First Aid through St. John's Ambulance.  One of the women in my class mentioned that her dog was a therapy dog for St. John's Ambulance, and just like that, I knew I wanted to do it too.  I've been looking for somewhere to volunteer and get more involved with the community, and I've always wanted that to include animals.  Athena just has the sweetest temperament too – training aside, she just loves people, loves cuddles, and loves kisses, so I figured she'd love visiting people and cheering them up.  It was just the training we would have to work on…
Basically on a lark, I emailed St. John's Ambulance just requesting information about the therapy dog program, and before I knew it, I was registered for an orientation session for February 4th.
In a bit of a panic – this was all happening so quickly! – I signed Athena up for CGN classes at When Hounds Fly.  I figured that'd be a good starting point – the Canine Good Neighbour exam is basically a kindergarten level therapy dog exam.  My thought was that we would do the classes and then get Athena her CGN, and if that all went well, we'd try the therapy dog thing.
In getting ready for the orientation, I had a lot to get organized.  I needed to fill out a slew of paperwork, get three reference letters, and get Athena's vaccination records, as well as a letter from the vet stating that there was no reason that Athena shouldn't do this.
At the orientation itself, we had to fill out all the info for a police record check (which, for the record, is the only thing the SJA actually charges you for; and they only charge 20$ when if you'd do it yourself/not for volunteering, it's 80$) and then watch a slide show and listen to a talk about what to expect from the volunteering itself, but also what to expect from the next step – the scary step: the dog evaluation.
In a fit of adrenaline and excitement, I told them to sign me and Athena up for an evaluation at the end of May, figuring I'd have plenty of time to work with her and get her ready, and see how she did on the CGN in the meantime.
The next few weeks were fairly uneventful, and then in quick succession right around the beginning of April, I learned two things:
1) The next available CGN exam wasn't until the end of May, and,
2) A spot had opened up and Athena and I got our evaluation for SJA bumped up to April 10th.
Oh, boy.  My anxiety levels amped up to 11.  I thought about telling them I couldn't make it on the 10th and backing out, but I kept reminding myself of a few things.  Best case scenario was that we pass.  Worst case scenario, we got a "not successful" but could try again in 6 months, and that time I'd know what to work on.  The only way you're disqualified forever (that I'm aware of) is if your dog shows any signs of aggression, and I don't even think Athena knows what aggression is.
With just over a week to prepare, I needed a plan of attack.  To be honest, I wasn't too worried about Athena passing the tests themselves – she'd at that point finished her CGN classes, and is generally pretty well behaved.  However, as a 2 year old Doberman, what she is not always is patient.  I was extremely worried that she'd be unwilling to be calm throughout the down time of the 2 hour (ish) exam – especially with no treats or toys allowed in the room – and they'd find her too disruptive and disqualify her.
I got her a new mat (doused in lavender essential oil) and retrained her "go to mat" behaviour.  From there, I heavily, heavily reinforced her calm settled behaviour on her mat, beginning at a high rate of reinforcement, and slowly cutting it down.  I made plans for her to hang out with her best friend Luna the day of her exam (a tired dog is a good dog!).
I remember saying to Katie Hood, Athena's CGN teacher, "I'm kind of cheating…", to which she replied, "That's not cheating!  That's strategy, my friend.", which will always stick with me.  Just a shift of perspective.
Exam day rolled around, and to say I was nervous would be an understatement; I didn't eat all day for fear of throwing it up.  I kept reminding myself that, pass or fail, it'd be a great learning experience.  I tried to keep as outwardly calm as I could – I didn't want Athena feeding off my nervous energy.  As they say, whatever you're feeling travels right through the leash to your dog.  Let me tell you though, I was not feeling confident.  I gave our odds 50/50.  I know Athena is amazing, but my nerves were frayed.
Athena's evaluation, with 5 other dogs, was at 8:30pm.  We rolled in right around 8:15, and were instantly greeted by several very friendly volunteers.  They even congratulated me on bringing Athena's mat ("What a smart idea!"… phew.  Not cheating.  Strategy.)
Right from the get-go, Athena was basically exactly what I'd feared: whining, not settling… and to my surprise, instead of giving me dirty looks, or asking "is she always like that?", the volunteers pet her and talked to her and told me it was normal.  They told me to just treat her how I normally do, so in a room full of proper looking people sitting up straight on their chairs, I settled myself on the floor next to Athena and cooed at her and pet her and kissed her.  To my amazement, after about a half hour, she lay down and settled totally calm.
And you'd better believe, she aced her tests.  What can I say?  I'm a proud mama.  She was polite, she was gentle, she didn't try to interact with the other dogs, and she walked on a loose leash.  She didn't startle when a pan was dropped, and she politely took treats.  She didn't get overly excited with a toy, and settled when I told her to (which even I was surprised at).  She didn't spook around canes or sunglasses or crutches or wheel chairs (all my awkward moments of walking up to people on the street with the above and asking if they'd pet my dog paid off)!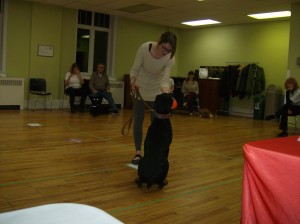 Finally, when we came to the end, they shook my hand, told me Athena had passed, and congratulated me.  In a fit of excitement, I asked if I could have a photo of Athena with some of the volunteers for my blog.  They happily agreed, and without a thought, I shoved her leash into one of their hands, and scampered off to grab my phone – at which point they awkwardly informed me that I wasn't supposed to let anyone hold Athena's leash other than myself.  Whoops.  Three volunteers posed super nicely with Athena, and… I guess my phone messed up, because I found out later the picture didn't take.  Whah wa.
I do have a somewhat blurry but still adorable photo of Athena getting fitted for her vest though, which may have been my proudest moment of all seeing her in that!
And that's that!  We don't have confirmation yet, but it's looking like we will be volunteering at the Toronto General Hospital, which I'm really excited about.  I think there are a few more hoops to jump through first – a health clearance test for me, I think – but then we'll be good to get started!
All I can really say again and again is what a great experience it was at that evaluation.  The volunteers were so friendly.  I had been so terrified, but it was such a supportive environment.  I'm so excited to actually get started volunteering!  Hopefully many more posts about this to come, once Athena's out in the world, making sick people a little bit happier.