Hi, and welcome to Pawsitively Genius!
My name is Verena, and I'm a dog-aholic. Actually, an animal-aholic. Growing up, I had mice, gerbils, hamsters, and fish. For Christmas when I was 16, my mom got me two little black kittens, who were found when they were only hours old in a barn, their mom dead. I got them when they were a couple weeks old, and fed them formula with an eyedropper until they could handle solid food. Almost a decade later, they are happy spoiled old -lady-cats. When I was 20, my roommate and I got two ferrets, who were great; they act like kittens, but never grow up into cats. Constant mischief! They were litter trained and knew how to walk on leashes.
Finally, just over 2 years ago, we got a Doberman puppy, only 8 weeks old, and named her Athena. Just like that, an obsession was born.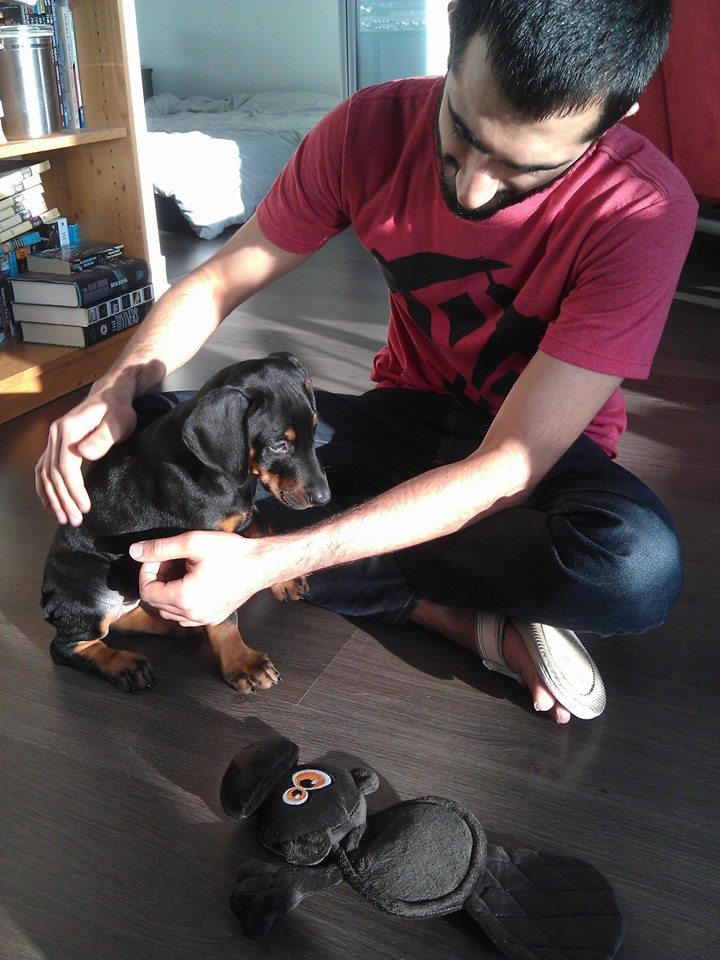 I knew that Dobermans are a headstrong, loyal, and incredibly intelligent breed, so I knew that she'd need structure and training from the very beginning. Aside from that, I knew… nothing. I did what any modern day person does, and took to the internet. I read about this thing called Clicker Training. I confess: I did not understand it. I bought a clicker at the pet store, and thought it would be some miraculous cure – I'd click, and she'd sit, or something. Magic!
While that didn't work quite how I thought, it did lead me to Andre Yeu, at When Hounds Fly. Athena completed a Puppy Socialization class, and then her Foundation Skills basic obedience class. I was happy to see that she loved learning. She's now got a near-perfect loose leash walk, but if we're within a block of When Hounds Fly, it goes out the window. She loves school. And it tires her out! Going to class for an hour makes her more tired than an hour at the park. It was around the time when we were doing Foundation Skills that I realized, "I think I love this as much as she does."
We progressed to taking Rally-O classes, and it was during that that I came to the decision: this is what I want to do with my life. I bought a tattered, used copy of Don't Shoot the Dog, and I've been working toward this ever since.
I've taken the Foundation Skills course at the Karen Pryor Academy, and I've taken Pet First Aid. I'm currently taking a class through the University of Edinburgh on Animal Welfare and Behaviour. I have officially been accepted to the Karen Pryor Academy for their Professional Dog Trainer program and I start this summer, which means that by this time next year, I will be – if I pass! – a KPA – CTP.   I'm currently working as a full time dog walker (including boarding and occasionally cat sitting). Animals have become my life, and I've never been happier.
As for Athena?  She turned two on February 5th.  She's working toward getting her Canine Good Neighbour certification at the moment, and she has her evaluation later this spring to become a Therapy Dog for St. John's Ambulance. She'll be doing as much work as I will, once my program at the KPA starts this summer; my favourite study buddy.
This blog will chronicle my experiences going through school, working with dogs, working with my dog, and volunteering. It'll talk about training, behaviour, and clicker training. I'm hoping it will start discussions and answer questions. It'll also have a whole slew of cute animal pictures to brighten your days.
It will encourage the use of positive reinforcement exclusively, but that and the flaws with punishment based learning and dominance theory are going to need their own posts!
So thank you for reading, and I hope you enjoy it. Please feel free to comment, contribute, ask questions, or even just send me pictures of your pets.
– Verena